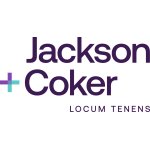 Jackson + Coker
Jackson + Coker
Whether you seek a position for a day or for a lifetime, trust Jackson + Coker to put our three decades of experience to work for you. Jackson + Coker's dedicated team of experienced recruiters assists healthcare providers seeking locum tenens positions. To find out how our vast contacts within the medical profession will enable us to find the perfect job for you, call 800.272.2707, or email connect@jacksoncoker.com. We know you have a choice of healthcare recruiting firms, and we thank you for choosing Jackson + Coker. We are not satisfied with a placement until you are. Jackson + Coker -- making healthcare staffing simple.
Alpharetta

,

Georgia

,

United States
Alpharetta

,

Georgia

,

United States
Company Information
Jackson + Coker connects providers and communities to transform lives because we believe everyone deserves compassion and care. Whether you're a healthcare provider in search of the perfect job or a healthcare facility interested in quality medical staffing, Jackson + Coker is the healthcare recruiting firm for you. For more than 30 years, Jackson + Coker has successfully represented healthcare opportunities for clients throughout the United States. We also represent some of the finest providers who are interested in locum tenens physician jobs.
Company History
Jackson + Coker specializes in opportunities for healthcare providers at any stage of their professional career. Drawing upon a robust database of facilities in virtually all medical specialties, our competent and experienced recruiters demonstrate quick response to staffing needs with concierge-level customer service. As a well-regarded industry thought leader, Jackson + Coker manages twelve social media accounts and publishes an online Industry Report reaching over 200,000 active or passive job seekers.