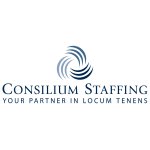 Consilium Staffing, LLC
Consilium Staffing, LLC
For the founding owners and current partners, our faith and our purpose are intertwined with Consilium, but that may not be the case for you. And that's OK. So while we do expect each team member of Consilium to strive to live up to our values, it is not a requirement that you adopt our purpose as yours. We offer our purpose statement to you in hopes that it helps you understand why Consilium exists in the first place, as well as the Biblical origin of our values.
Irving

,

Texas

,

United States
Irving

,

Texas

,

United States
Company Information
Consilium Staffing assists hospitals, primary care offices, urgent care centers, correctional institutions, and other healthcare facilities, when those facilities are under-staffed. We partner with our nurse practitioners so they can help deliver medical care for our clients who need their help.
Company History
Consilium was founded by six healthcare staffing industry leaders, who until a chance meeting between two of the individuals, were all headed in different directions. Four of the members had left the industry altogether: one running his own consultancy, another practicing law, and two more running an investment office. Another was still in the industry, but then looking to make a career change; and the last was toiling away in her current position searching for a better purpose.