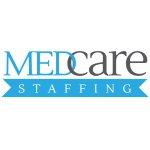 MedCare Staffing, Inc.
MedCare Staffing, Inc.
We are a Veteran Owned Business, BBB accredited and a member of NALTO. A+ rated malpractice coverage.
Suwanee

,

Georgia

,

United States
Suwanee

,

Georgia

,

United States
Company Information
MedCare Staffing is a small, contingent medical staffing/recruiting company located outside of Atlanta in Suwanee, Georgia. We serve Federal/Commercial facilities with Physicians, Nurse Practitioner, and Physician Assistants in all specialties. Above all, we are a company helping to staff throughout the US, even recently expanding into the Telehealth field.
At MCS, we understand the concerns of both our large, multi-campus healthcare partners and our small, business/medical practice partners. Our focused and experienced employees work as a cohesive team, not as self-servers who are primarily focused on their needs instead of the clients' needs.
MedCare Staffing, Inc. was formed with the purpose of becoming a solution for the shortage of physicians, NP's, and PA's across the nation. We have a sincere passion for helping clients find the right providers for a job. We truly enjoy the client relationship, and we aspire to be the first line of defense for clients facing any staffing decision.
We are Better Business Bureau accredited, a Veteran Owned Small Business (VSOB), a member of NALTO (National Association of Locum Tenens Organizations).
Company History
MedCare Staffing was started in 2001 to provide a personal touch approach in the ever changing Physician Recruiting industry.