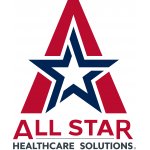 All Star Healthcare Solutions
All Star Healthcare Solutions
Deerfield Beach

,

Florida

,

United States
Deerfield Beach

,

Florida

,

United States
Company Information
All Star Healthcare Solutions® is a full-service company and one of the fastest-growing healthcare staffing firms in the United States. We place physicians and advanced practitioners on locum tenens (i.e., temporary) assignments and in permanent positions at healthcare facilities throughout the country, bringing high-quality care to patients who might otherwise go without it. So, by extension, we help save lives.
In our industry, it is unique for a healthcare staffing firm to have Locums and Perm Divisions that work together cohesively toward a common goal to ensure clients and providers can work between both Divisions seamlessly. Our Divisions embrace teamwork, supporting each other's individual strengths to enhance our ability to effectively perform, to give our clients and clinicians the best possible experience. It is all part of our signature "Red Carpet" Service approach.
Working simultaneously and strategically allows more of our consultants to interview candidates from both sides, resulting in more opportunities for all. We believe that an environment where people rigorously communicate with their peers, providers, and clients fosters collaboration, builds trust, and ultimately leads to delivering better results to those we serve.