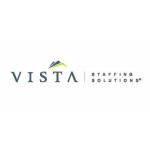 Vista Staffing Solutions
Vista Staffing Solutions
Healthcare facilities choose to work with VISTA because of the versatile, in-demand breadth of our medical provider pool. Healthcare providers choose to work with VISTA because we coordinate, arrange and simplify both the locum tenens and permanent placement processes to their benefit.
Salt Lake City

,

Utah

,

United States
Salt Lake City

,

Utah

,

United States
Company Information
Recipient of Inavero's 2018 Best of Staffing award in both Talent and Client categories, VISTA Staffing Solutions employs 28 years of experience optimizing continuity of care for hospitals, medical practices and government agencies across the US. We ensure both quality and continuity of care for patients and the healthcare facilities that serve them. A leading provider of short-term US locum tenens and permanent physician search services, VISTA partners healthcare providers with facilities who need them most, providing an effective strategy for lessening the impact of the global provider shortage.
Company History
Since its inception in 1990, VISTA has become a pioneer in the physician staffing industry, broadening its provider pool to include nurse practitioners, physician assistants, certified registered nurse anesthetists and allied health professionals with official credentials in a range of in-demand specialties.