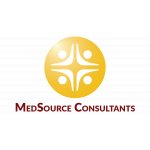 MedSource Consultants - NP Division
MedSource Consultants - NP Division
At MedSource, we've made dreams come true for thousands of Advanced Practice Professionals. The demand in this field is at the highest level in the history of healthcare. Rewarding opportunities are abundance- and we'll help you pick the perfect one. Fast-track a brilliant career with our national reach and access to the most desired opportunities in healthcare. Our expert team makes it easy for you and we'll find you a position that's not a figment of your imagination.
Stamford

,

Connecticut

,

United States
Stamford

,

Connecticut

,

United States
Company Information
Trust and communication are not flowery words or some well-worn motto at MedSource Consultants. They're part of the fabric of our mission and culture. It is with this mindset that MedSource Consultants has been successful at placing thousands of medical professionals, cementing us at the nationwide leader in the industry. Our team's deeply collaborative nature and thirst for excellence ensures positive outcomes for you at every level of the process.

We are people that care. We love what we do, and we're here to make life better.

MedSource Consultants has been recruiting medical professionals for over two decades. As our family grows and we continue to lead our industry, the quality of relationships cultivated throughout the years is what exemplifies who we are today. The dream we have lived and realized for over twenty years is to provide a superior experience you won't get anywhere else.