Categories
Recent Posts
Popular
Most Popular
Nursing During the Holidays – 10 Ways To Cope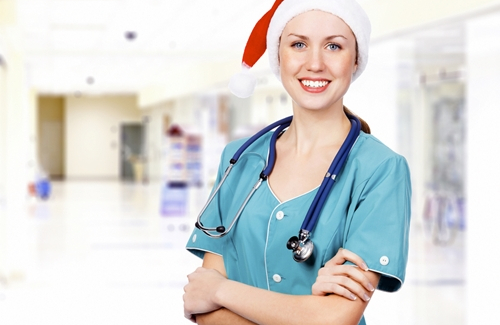 'Tis the season! It's time for the holiday stress to start, flu season to take over, and patients to pile in filling up the units for care. Unfortunately, it also means many nurses are spending their holiday away from their families and dreading going to work because of the fear of missing out or FOMO. If you're looking for ways to cope with your FOMO this holiday season because you have to work – this article can help!
10 Ways for Nurses to Cope with Working the Holiday
Holiday Rotation– Nurses don't usually work every holiday. If you're stuck at work on Christmas morning away from your kids, it can be hard. However, you know it's just part of the job. You can try to split the shift with an off-shift co-worker to be with your family, but sometimes, you have to bite the bullet and work the day.
Monetize It – Managers should understand that working on the holidays can bring nurses a great deal of sadness and cause the FOMO factor to set in. Let nurses know the hospital cares by giving an extra incentive for the holiday. If you can't give a bonus in their paycheck, consider a simple gift card.
Free Meal – The hospital I work for has a free meal on Thanksgiving for staff members who have to work. This is a nice gift from the hospital, and if we get a break, we get time to eat together as a "work family."
Make it Fun – We have a secretary on our unit that always brings the fun into the holiday. We play Bingo throughout the day, and she will announce the next combo of numbers through our unit communication devices. She also picks up some dollar-store prizes to add in an extra layer of fun. It's a great time and brings us some laughs. Try some other fun activities, such as a unit coloring contest or Chinese auction. Be creative, and remember that these activities are fun if you're open to it!
Potluck – Invite everyone to bring their favorite dish to enjoy the food that they usually cherish on the holiday. Make a menu and get those crockpots ready!
Secret Santa – Make the season of giving even more special by anonymously picking names for a secret Santa gift exchange.
Decorate – The holiday season should feel and look festive. Patient's visitors can enjoy a home-like feel with decorations, like a tree and lights. Make it even more fun by playing "St. Nick" with your patients. Have each patient put a basket or shoe outside their door and have "St. Nick" come and put a treat inside.
Use Technology – Missing your family? Use Facetime to say hello and feel part of the gathering. Help your patients do it too. It may make them feel a little closer to their families during this time.
Celebrate a Different Day – It's not ideal to not celebrate the holiday on the actual day, but it is important to spend time with family. Sometimes, this can be done the weekend before or after the holiday. This way, anyone in the family can enjoy the day and not stress about missing time with the family.
Be Positive for Your Patients – Don't whine about working the holidays. It could be worse, you could be the patient and stuck in the hospital on this special day. Try to spread holiday cheer for patients because depression during the holiday season can be detrimental to their health and recovery.
No one wants to work on the holiday and be away from their family. However, it's part of the nursing gig. Unfortunately, hospitals don't close, so we have to make the best of it. Try some of these tips this season and by next year, you might want to work and enjoy the festivities with your work family.