Categories
Recent Posts
Popular
Most Popular
Nurse Staffing Issues In The ER And Ways To Improve Them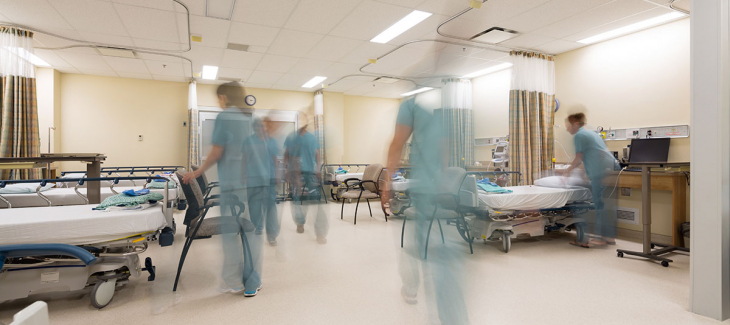 Nurse staffing ratios in the emergency department (ED) are critical to the function of the unit and care of patients. They help define the optimal numbers of registered nurses trained in emergency medicine to care for patients that require urgent, and sometimes high acuity care. Data shows that hospitals with higher nurse-to-patient ratios allow both the patients and nurses to suffer.
When inadequate nurse-to-patient ratios occur, staff turnover rises, nurse job satisfaction decreases, and because of potential errors, patients may be put at an increased risk of injury. During times of poor staffing, patients might suffer from delayed medication administration, nursing, and physician care. All of these factors contribute to a lower overall patient satisfaction.
Should hospital emergency rooms (ER) decrease the number of nurses to save money, or keep the number of nurses where it needs to be for patient safety, nurse satisfaction and retention? Let's explore this issue a bit further.
The ER and Level of Care
Emergency rooms are often the first or last resort for care. Uninsured patients use it as a physician's office and may wait until they are so sick that they require 1:1 care when they arrive. Other problems with the ER include:
High patient volume- Through the mandated EMTALA law, the ER must treat anyone who walks through the door, with or without insurance. This could mean some patients are treated multiple times a day. According to a survey by the Center for Healthcare Research and Transformation, uninsured patients use the ER three times more than insured patients.

Higher patient acuity- As previously mentioned, some people use emergency rooms across the country as the location for primary care. They don't seek out preventive care, nor do they establish a primary physician. The ER is where they come when they are so sick they desperately need treatment.
Factors that impact staffing
The ED is unique because the patient load can vary from minute to minute, hour to hour. Some factors that impact staffing numbers include:
Patient volume – How many patients are present in the unit?

Acuity – What level of care is needed? Patients who require 1:1 care might be put at an unnecessary risk during times of low staffing.

Documentation time – Some Electronic Medical Records (EMRs) are time-consuming and take the nurse away from direct patient care.

Boarding – Are patients waiting for beds in the ICU or step-down units? This can create a lack of available ED examination rooms if there aren't enough nurses to give report to receiving staff and facilitate transfer of patients.

Patient and family education – It takes time to teach patients and families self-care methods to ensure successful discharge procedures and minimize readmissions.

Care Coordination – Are patients waiting to see social work or behavioral health before going home?

Additional staff available for boarding patients- Do patients need sitters? Are nurses trained in telemetry available to respond to cardiac events?

Unanticipated emergency – The beauty of an emergency room is that you never know what will walk through the door. The question remains, will the unit be staffed adequately for the next actual emergent need?

Staff model must include ancillary staff trained in emergency nursing – This includes aides and medics with the ability to help in an emergency situation.
Now that you are aware of the potential outcomes of poor staffing, let's discuss a few solutions.
Start with Triage
To start the prioritizing method, triage is crucial to categorizing patients. Think of the ABCs: Airway, Breathing, and Circulation. The triage nurse is responsible to advance higher acuity patients to the front of the line. In the emergency department, it's not like a restaurant. It's not first come, first served. Care is delivered based on the severity of the illness or emergency.
When to increase staffing
Ideas arise when Emergency Department nurses come together and collaborate about staffing challenges. One solution has been to increase staff during peak or high-volume hours. If the ER always has an influx after working hours, it's important that extra staff is available at that time. Usually, this includes in-house, but sometimes it's acceptable if nurses are within a 30-minute drive during an on-call shift.
Freestanding ED
A new strategy emerging in many healthcare systems are freestanding emergency departments. These facilities aren't attached to the hospital, but still staff appropriately for care. They also have easy access to the hospital for patients who require admission or specialized care.
These freestanding EDs are staffed with nurse practitioners and physician assistants to minimize the higher costs of a physician. They can treat patients faster and can send the patients home with prescriptions and follow-up instructions. The EMR communicates the care to their partnered hospital or physician for continuity of care after discharge or upon transfer.
Staffing in the emergency department might always be an issue in healthcare. It takes an experienced manager and charge nurse to make decisions based on these factors to optimize staffing in the ER. Managers must be open to new ideas that ensure adequate staffing while not breaking the bank.