Categories
Recent Posts
Popular
Most Popular
Depression in Nurses - Why Does it Happen?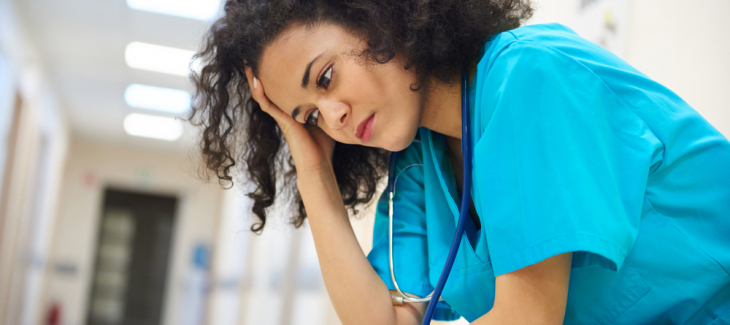 A common question that nurses are asked is, "why did you go into nursing?" Replies are often limited to the simple, logical answer of "to help people." Ironically, it rarely occurs to nurses that their nursing job could lead to depression for themselves. With the physical and emotional demands of the job, these negative emotions are common. Curious about why this happens, and how this affects the nursing population and their patients? This article breaks it down.
The Facts
Depression is one of the top ranked mental health disorders in the United States. Around 9.4% of the US adult population suffer from it, and their work performance often follows suit. Nurses aren't excluded from this domino effect. In fact, nurses are often more vulnerable to depression based on the abundance of work stress associated with the role. In comparison to the general public, nurses are twice as likely to develop depressive symptoms.
How Depression Begins
Nurses are often short-staffed, leading to dissatisfaction with their patient care. It's not uncommon for nurses to clock in, immediately be assigned eight patients with various diagnoses, and get to work. Their busy shifts include duties such as:
Answering call lights

Assisting with ambulation

Retrieving essentials like food and water

Performing assessments

Giving bed baths

Calling the doctor

Passing medications

Charting
With eight patients at once, this leaves minimal room in a 12-hour shift to eat, go to the bathroom, or even drink a beverage.
While nurses value the opportunity to help people, understaffed conditions and a consistently high patient load can prevent them from making the impact that they desire.
The first signs of work-induced depression are experiencing a low mood, having difficulty concentrating, and becoming accident-prone. You may also notice that time management capabilities are decreasing, and work output is lower-quality.
Once a nurse exhibits these signs, it may result in errors in patient care. This can span from a simple mistake like going into the wrong patient's room to a significant medical misstep leading to dangerous repercussions. Nurses' mistakes are never calculated, and most medical errors garnering media attention were not deliberate. Nurses are only human, and all humans make mistakes. Coupled with a mental health disorder such as depression linked to low performance, you're likely to see these errors increase.
Finding a Solution
Nurses who are struggling with depression should first perform a self assessment. The following questions should be asked:

Is this the area of nursing that I wanted to work in?

Am I getting enough rest?

Am I getting enough exercise?

How can I make my work flow better?

What can I delegate to a charge nurse or aide while I work?
Some of these questions may lead you to an answer that solves your challenges.
Don't be Afraid to Reach Out.
If you are experiencing depressive symptoms, contact a licensed therapist. They may be able to uncover whether these feelings are rooted in your job situation, or if it's caused by another factor. Talk to your nurse manager or nurse educator, who can help coordinate a discussion.
It's important for clinical nurse specialists to be aware of the high incidence of depression in the healthcare field. Nurses are not always clear on how high the depression rates are in their field, and should be screened and given treatment options by their clinical nurse specialist or educator.
The primarily focus for all healthcare professionals is to ensure patient safety. Errors are bound to happen, but their frequency can be reduced if mental health is prioritized. By implementing screening processes and early intervention, patients will continue to benefit from safe and productive nursing care.