Categories
Recent Posts
Popular
Most Popular
Babies born to moms with COVID-19 when pregnant should be watched for long-term impacts, researchers say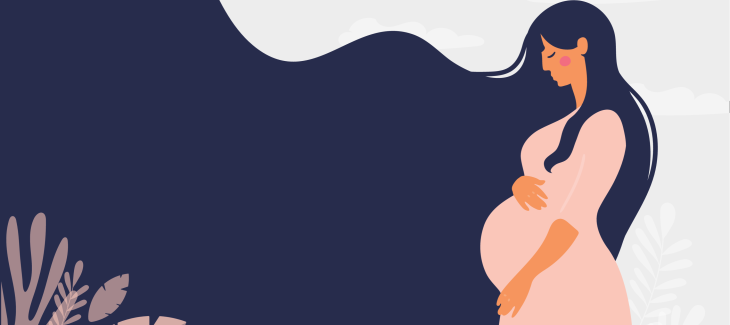 By Karen Weintraub, USA TODAY
A COVID-19 infection during pregnancy can leave an imprint on the fetus, according to a growing body of research, though it's unclear whether that effect is long-lasting.
Two studies published last month show that the disease, particularly when it's severe, can affect the immune activity at the time of birth and that boys may be affected differently than girls.
It's far too early to know whether babies exposed to COVID-19 during pregnancy will be any different from those born without that exposure, said Dr. Andrea Edlow, a maternal-medicine specialist at Massachusetts General Hospital, who helped lead one of the studies.
Babies are very rarely born infected with COVID-19 and birth defects have fortunately not been associated with the disease, Edlow said.
She and the other researchers are still concerned about potential long-term impacts. "There's a lot beyond birth defects and gross miscarriage that matters," Edlow said.
Children born to mothers during the 1918 flu pandemic had higher rates of schizophrenia, and many neurodevelopmental disorders, including ADHD, autism and schizophrenia, have been linked to infections during pregnancy.
The risk of these conditions, which occur more often in males, remains low, even among mothers who fell ill during pregnancy.
"Our intent is not to scare people, just to make them aware that (these children) should be followed over time," said Dr. Karin Nielsen-Saines, a pediatric infectious disease specialist at the University of California, Los Angeles, and senior author on one of the papers. "There's definite evidence that maternal immune activation in pregnancy could be associated with neurodevelopmental or psychiatric problems later in life."
For at least three years, she and her colleagues plan to follow as many as 500 children in the USA and Brazil who were born to women infected with COVID-19 during pregnancy.
That will be long enough to see whether the children are at increased risk for autism but not long enough to detect conditions that develop later in life.
"The children we're more concerned about are the ones born to mothers with severe illness," Nielsen-Saines said.


COVID-19 vaccines recommended

Instead of getting worried, the researchers said, the studies should be one more reason for pregnant people to get vaccinated against COVID-19.
Although studies have confirmed the safety of COVID-19 vaccines during pregnancy and the Centers for Disease Control and Prevention recommends them, vaccination rates remain low. Less than one-third of pregnant people had been vaccinated by mid-September, and less than 16% of non-Hispanic Black people received shots.
The American College of Obstetricians and Gynecologists also recommends a booster dose for pregnant women six months after they complete their initial round of vaccinations.
Nearly 135,000 pregnant Americans have developed COVID-19 since the pandemic began, 23,000 have been hospitalized and more than 200 have died.
About 97% of pregnant people hospitalized with confirmed coronavirus infections have been unvaccinated, according to unpublished figures from the CDC's COVID-NET surveillance data.

It's much more dangerous for the fetus to be exposed to the virus than to the vaccine, Edlow said. Vaccines have been better studied during pregnancy than treatments used to prevent severe illness and during hospitalization for COVID-19, such as monoclonal antibodies, remdesivir and steroids.
"Pregnant moms need to get vaccinated," said Dr. Alissa Erogbogbo, medical director of operations of the Ob Hospitalist Group, a national chain representing 1,200 physicians.
Unfortunately, she said, she sees parents who don't understand that the side effects of vaccination are not an infection, but "the immune response of your body accepting and now building a large amount of antibodies that will cross the placenta and protect that child."
The lack of pregnant and lactating women in the original vaccine trials left lots of "space for uncertainty and also misinformation," said Dr. Stephanie Gaw, a maternal-fetal medicine specialist at the University of California, San Francisco. Although it took a while to confirm, vaccines are known to be safe for mother and fetus, she said.
In her own work, Gaw studies how COVID-19 infections at different times during pregnancy may affect the fetus differently, as well as the best timing for both vaccines and boosters to protect mother and baby.


Born into inflammation
Of the 94 women and 45 babies the team reported on in the UCLA study, the babies who had the most immune differences on their first day of life were born to women with the most severe illnesses.
Most of the babies were not infected themselves but had a distinct activity pattern of cytokines – immune proteins that send signals and control the growth and activity of other immune and blood cells.
In other words, they started out life with inflammation, said Dr. Mary Catherine Cambou, another researcher on the UCLA team.
"The harm that we were concerned about is from this overt inflammatory response in pregnancy," she said. "What was really surprising was that the cytokine patterns in infants born to mothers with severe COVID-19 also had distinct patterns on Day 1 of life. This was even in babies who had not been infected."

The women who had severe COVID-19 were more likely to have high blood pressure and smaller babies, said another author, Dr. Rashmi Rao.
"This is real. We who are working with COVID, we see it on a day-to-day basis in the hospitals," Rao said. "But it's nice to be able to show that on the basic science level and show there are very real changes to the immune system that occur."
In an unrelated study from Edlow and her colleagues, COVID-19 infection during pregnancy led to the development of fewer antibodies in the mother when the fetus was male than when it was female, and fewer antibodies passed through the umbilical cord to male fetuses
Male placentas had higher levels of some immune and inflammatory genes when the mother had COVID-19, suggesting that male fetuses may be exposed to a more inflamed immune environment. This could have later-life implications for males more than females, but the study was not designed to look at later-life outcomes specifically.
Edlow said the research might begin to explain why later in life, older men are more likely to die of COVID-19 than older women.
The study shows that "there really are sex-specific differences in response to disease, in response to treatment," Gaw said.
In a second study, Edlow and her colleagues found that second doses of vaccines are essential to protecting pregnant women against COVID-19. The Moderna vaccine appeared to provide the best protection of the three available brands.
The study pointed out that women who are pregnant are different immunologically from those who are nursing.
Although infections during pregnancy may offer parent and baby some antibodies to prevent infection, Edlow warns that such protection is variable and unpredictable.
"I wouldn't assume your baby is protected just because you had COVID in pregnancy," she said, and her data suggests that baby boys would be even less protected than baby girls.


Read the original article on USA TODAY