Categories
Recent Posts
Popular
Most Popular
5 Holiday Employee Appreciation Tips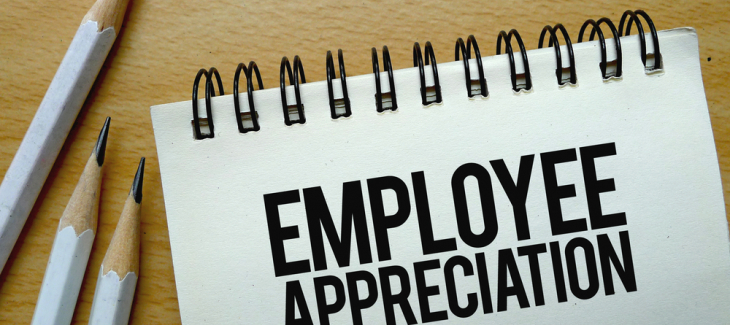 During this holiday season, be sure to let your employees know how much you appreciate their efforts. Despite the fact that demonstrating appreciation is a kind gesture overall, gratitude makes business sense and it doesn't happen often enough.
This Gallup survey indicates that only 1 in 3 workers throughout the U.S., state that they "strongly agree" that they have received recognition for their work in the past week.
Why is employee appreciation important to your business? Lack of recognition may lead to:
lost productivity
decline in employee engagement scores
negative work environment/low morale
lack of work satisfaction among employees
So how can you avoid these negative consequences? Give a little appreciation and receive many rewards in return. Small gestures can go a long way!
5 Holiday Employee Appreciation Tips:
A short verbal or written thank you: How often have you personally reminded your employees of their value? How do you recognize their contributions? A quick snippet of employee appreciation can make a long-lasting impact on your employee's engagement and feeling of worth. In our increasingly digital age, how often have you received a hand-written note? Taking the time and effort to provide a written note can provide an enduring positive impact on your employees' satisfaction. Personally, I keep all of my thank you notes to review on the most challenging days; they serve as a reminder of my "why".
Financial recognition – is it promotion season? Are there employees who have gone above and beyond the call of duty? Does your company offer holiday/end-of-year bonuses related to performance? What flexibility in your budget do you have for financial rewards? You may not always need to wait for annual performance evaluations before providing special financial incentives/recognition. Of course, be sure to work with your HR department to determine fair and equitable ways to manage this recognition.
Celebrations: Organize social events on site or offsite bring employees together. Are there any special achievements your team has accomplished this year? What initiatives has your team focused on working towards?
Provide opportunities for high visibility projects: Providing opportunities to advance, gain new skills, and challenging employees with work that helps them progress will allow them to reflect on the growth they have had and set them up for success or promotion within the company. It is a win-win situation for both you and your employee.
Department or organizational level recognition: A few ideas for public recognition include nominating your employee(s) for established organization awards, seeking out special recognition from upper administration, or providing more informal recognition at a staff meeting.
Since the holiday season is a very small part of the year, how can you make expressing gratitude a habit? A few ideas are: send yourself a weekly calendar employee appreciation reminder, make recognition a standing staff meeting item, work to design department awards and a timeline to award those recognitions throughout the year.
Now stop reading this and start celebrating the good in every day at work!