Categories
Recent Posts
Popular
Most Popular
NurseGrid – Software of the Month – June 2018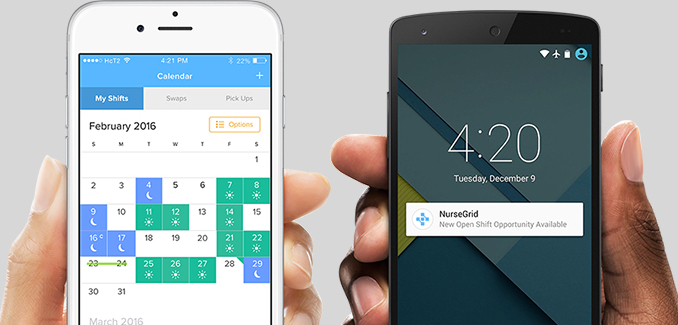 #1 Nurse App in the Nation​
More than 500k nurses nationwide use NurseGrid Mobile as their preferred calendar app.​
Calendar
Put Your Work Schedule in Your Pocket
NurseGrid is a schedule management app built exclusively for nurses. Enter months of shifts into the calendar in seconds. Our custom algorithm memorizes common shift times for easy input. Add non-work events like meetings and education, customize your view with colors and icons, and include multiple worksites in your profile to see your entire work schedule at a glance.
Sync NurseGrid with All of Your Calendars
Your life is about more than work. We made it simple to sync NurseGrid with your personal calendar so you can balance your entire schedule. Create a custom link to your calendar to add to third-party calendaring apps. Share it with friends and family or connect it to your smartphone calendar.
Colleagues
See Who You Work with for Every Shift
This feature is a favorite for nurses. Connect with colleagues at your worksite and send connection requests to friends at other worksites. See who you work with and when, and even share your schedule with colleagues and friends to coordinate shift changes and personal days outside of your scheduled shifts.
Find out Who Can Swap Shifts with You
As nurses, the process of finding someone to trade shifts with has always been difficult. NurseGrid makes swapping shifts and doing shift giveaways fast and easy. Choose the days you can work instead, and NurseGrid will show you a list of all of your coworkers working those days. Send them swap requests in NurseGrid where they can accept it with the click of a button. If your department is using NurseGrid Manager, your manager can then approve the swap or giveaway instantly.
Messages
Send Group and 1:1 Messages
Send individual or group messages quickly with NurseGrid's in-app messaging system. Stay in touch with your coworkers, coordinate days off, and find nurses to trade shifts with you. Messaging includes push notifications, so you get faster responses without the need to call, text, or email.
Notifications That Are Relevant to You
NurseGrid turns your smartphone into a personal portal for schedule changes. Trade shifts with colleagues, grab extra work hours, even take advantage of a flex off opportunity during low census, all with interactive push notifications. Accepting new shifts adds them directly to your calendar, and see instantly who you work with.
Activity
Get All Your Important Updates in One Place
Whether it's an expiring credential, a new connection request, or notifications of open shifts, flex off opportunities, and swap and giveaway approvals, your activity feed shows you what you need to know as soon as you log in.
Never Let Another Credential Expire
Enter your credentials into NurseGrid and set expiration reminders for yourself so you never miss a shift again. The NurseGrid digital credential passport also lets you share your credentials directly with your manager if your department is using NurseGrid Manager.
Me
Personalize Your Profile
Set up your worksites, credentials, and the profile information you'll share with colleagues you connect with. You can also connect with support and manage your account settings right from here.
Customize Your Worksites
Many nurses work at more than one facility, but existing scheduling apps don't make it easy to keep all this information organized. With NurseGrid, you can add all your worksites and customize your settings for each so that the information you need is available at a glance.