Categories
Recent Posts
Popular
Most Popular
How to Become a Military Nurse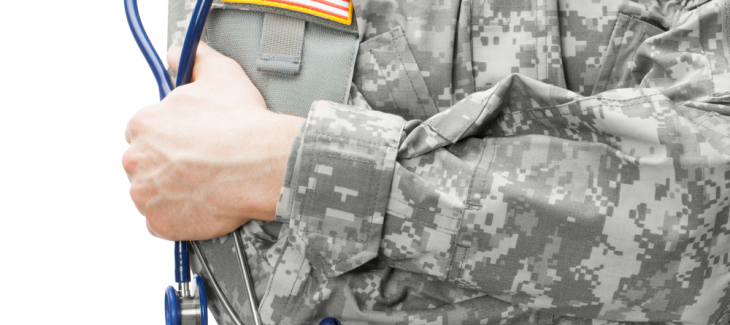 To serve our country is an esteemed responsibility that few can say they have earned. Becoming a military nurse can provide you with that prestigious honor. If you're seeking meaningful work and are interested in supporting people who are fighting for our country, military nursing may be the perfect fit for you. This article will explain how to become a military nurse, and the perks behind it.
One Degree, Three Paths
In order to become a Registered Nurse for the military, you are required to obtain a Bachelor's of Science in Nursing (BSN) degree. Nurses that only hold an Associate's degree do not qualify to become an officer.
With a BSN degree, you are granted the opportunity for three potential paths.
Enlisting nursing commissioning programs

Reserve officers' training corps (ROTC)

Direct commission process
You have the option to join one of these programs after you earn your degree, or you may take the four year program and receive your BSN and commission through the military and join in one of these programs.
Advancing to the Next Level
A military nurse career offers several opportunities for advancement. These include:
Clinical Track

Staff Track

Leadership Track
Where Military Nurses Work
Military nurses typically work on the battlefield in war zones, as well as in military clinics and hospitals. You may find them on Navy ships, or even in your own backyard as they attend to the needs of United States service members.
By embarking on the military nurse career path, you are making a substantial commitment. Serving as an active member of the Armed Forces, military nurses are deployed for as long as 6 months to a year at a time. Following active duty, military nurses are often transitioned into civilian life.
Money and Perks
A military nurse position has a range of benefits, and the pay is comparable to that of a civilian nurse. The base rate as a newly commissioned nurse in the military is $37,000-$58,000 per year, with housing and food covered or provided in an extra check. Additionally, nurses in the military are offered various bonuses including a sign on bonus, annual bonuses,and hazard pay. Healthcare benefits are also included for military nurses, in addition to vacation and retirement contributions.
When working in the military, opportunities exist to scale and rise within your rank. For instance, all army nurses, start as an officer with the lowest pay grade. However, with continuous experience, training, and specializations, these individuals are able to climb the ladder and advance to a position as high as a major. With this progression, income will increase accordingly.
The Military Ranking
Officer

Second Lieutenant

First Lieutenant

Captain

Major and so on

Lieutenant General

General

Field Marshall
Are You In?
Becoming a military nurse requires specialized skills to effectively handle the emotional labor of working within war zones and conditions. If you're confident that you can manage the demands and are ready to get started, here's how.
How to Become a Military Nurse
Earn your degree (BSN preferred)

Pass the NCLEX

Gain experience as an RN or begin as a new graduate in the military

Talk to a recruiter who can help kickstart your career path

Complete the application process

Start an Officer Basic Leadership Course - 5-10 weeks. This military training is required to work in the military.
Working for the military is a selfless commitment, and your work will result in a high level of gratitude and appreciation from your patients. This dedication to our country will prevail long after your active duty is complete.